Sofitel Moorea Ia Ora Beach Resort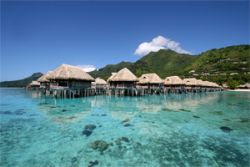 Sofitel Moorea Ia Ora Beach Resort
The Sofitel Moorea Ia Ora Beach Resort is set at the edge of a magnificent lagoon (ideal for snorkeling), on the most beautiful and longest white sandy beach on Moorea. Overwater, beachfront and garden bungalows embody the pristine beauty of the destination with natural materials and luxurious amenities.

!-->

Pleasant Holidays, in business since 1959, is one of the leading travel companies serving Hawaii, Mexico, the Caribbean, Costa Rica, Continental United States, Tahiti and the South Pacific, sending more than 350,000 visitors to its destinations annually from over 260 cities nationwide.
From the design to the operation of our travel programs, our commitment is to provide you with an enjoyable and memorable journey. Our dedicated, knowledgeable, and well-trained team has perfected thi
...
from Los Angeles - Tues, Thur, Fri, Sun
from Los Angeles - Tues, Thur, Fri, Sun