48-Day Voyage Of The Americas
on Koningsdam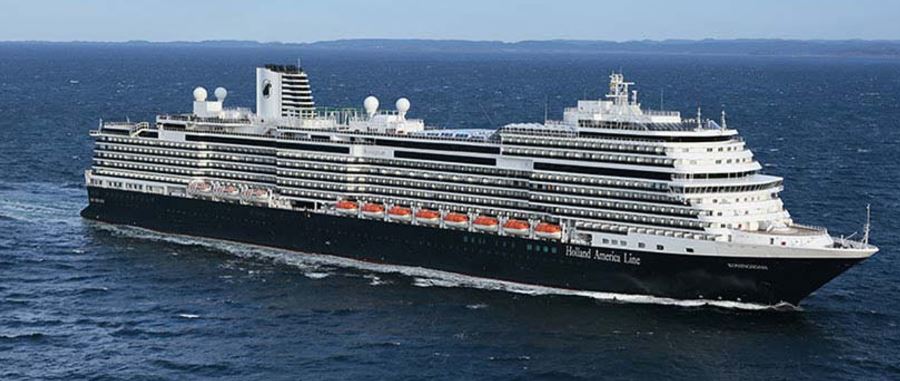 Launched in 2016,
Koningsdam
carries forward all of the tradition, nautical heritage, and signature service and style for which Holland America Line is known-while raising the bar for 21st-century elegance. The 2,650-guest
Koningsdam
is the first of her class, ushering in a new era of Pinnacle-class cruising.
At the heart of the ship,
Koningsdam's
central atrium is pure visual drama. Soaring three decks high, the space is graced by an airy stainless steel
...
About Holland America Line

At Holland America Line, we believe travel has the power to change the world. It enriches us as we discover new places, cultures and people. It's this belief that drives our guiding purpose to help make the world a better place through opening minds, building connections, and inspiring a shared humanity.
For 145 years, Holland America Line has been carefully crafting your next journey. Our fleet of 14 spacious, mid-sized ships offer a classic style of cruising to more than 425 ports
...
| Day | Port | Arrive | Depart |
| --- | --- | --- | --- |
| 1 | Fort Lauderdale, Florida, US | | 5:00 PM |
| 5 | Bridgetown, Barbados | 8:00 AM | 6:00 PM |
| 6 | Days at Sea | | |
| 7 | Devils Island, French Guiana | 10:00 AM | 6:00 PM |
| 8 | Days at Sea | | |
| 9 | Crossing the Equator | | |
| 10 | Fortaleza, Brazil | 8:00 AM | 6:00 PM |
| 11 | Days at Sea | | |
| 12 | Recife, Brazil | 8:00 AM | 5:00 PM |
| 15 | Rio de Janeiro, Brazil | 8:00 AM | 10:00 PM |
| 18 | Montevideo, Uruguay | 8:00 AM | 6:00 PM |
| 24 | Punta Arenas, Chile | 10:00 AM | 8:00 PM |
| 27 | Puerto Montt, Chile | 8:00 AM | 5:00 PM |
| 28 | Days at Sea | | |
| 29 | San Antonio (Santiago), Chile | 8:00 AM | 5:00 PM |
| 33 | Callao (Lima), Peru | 6:00 AM | 11:00 PM |
| 37 | Puerto Caldera (Puntarenas), Costa Rica | 7:00 AM | 5:00 PM |
| 38 | Corinto, Nicaragua | 10:00 AM | 6:00 PM |
| 39 | Puerto Quetzal, Guatemala | 8:00 AM | 6:00 PM |
| 42 | Puerto Vallarta, Mexico | 7:00 AM | 6:00 PM |
| 45 | San Diego, California, US | 7:00 AM | 5:00 PM |
| 48 | Victoria, British Columbia, Canada | 2:00 PM | 11:00 PM |
| 49 | Vancouver, B.C., CA | 7:00 AM | |