5 Days Cuba from Charleston, SC
on Carnival Sunshine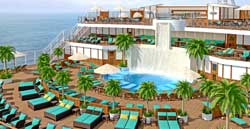 Everything the sunlight touches on Carnival Sunshine has been doused with an extra dose of fun. There's plenty to find atop this ship, where you can spend your days being kissed by the warm rays of the sun. Visit the biggest Serenity area ever, featuring three decks, plenty of recliners... and even a waterfall. When you're on your Carnival Sunshine cruise, step out of the sun and try out some shade (and it's some pretty cool shade, at that). The first thing you'll see is the Sunshine Atrium...
...
About Carnival Cruise Lines

Carnival is "The World's Most Popular Cruise Line®" with 24 ships operating 3 to 16-day voyages to The Bahamas, Caribbean, Europe, Mexican Riviera, Alaska, Hawaii, Canada, New England, Bermuda, Australia, New Zealand and the Pacific Islands. We offer a wide array of quality cruises, and pride ourselves on delivering memorable vacations to our guests. A Carnival cruise offers not only outstanding value for the money, but most importantly, fun! A "Fun Ship" cruise features day and nighttime entert
...