A Circumnavigation of Iceland
on National Geographic Explorer
A Circumnavigation of Iceland
A satisfying 360° experience: wildness, culture, geology & more
Iceland's geology in all its manifestations––glaciers, thundering waterfalls, immense cliffs, geothermal springs, boiling mud pots, and rock and lava-scapes of unearthly beauty––is world-class. It alone makes a circumnavigation a very compelling idea. And when you add in the other itinerary components––Iceland's people, their unique cultural heritage and contemporary character, the island's geography and birdlife––seeing it all in one 360º Iceland cruise expedition is irresistible.
There's one place on Earth where geology is so exciting, it's downright sexy, even if you're not a geologist: Iceland. Geologically young, Iceland is located on both the Iceland hotspot and the Mid-Atlantic Ridge––which means it is highly geologically active with many volcanoes––hundreds of them, in fact. Most famously, the volcano in Eyjafjallajökull erupted in 2010. On this unique 360º itinerary you will:
Experience all of Iceland's geological manifestations: glaciers, geysers, thundering waterfalls, immense cliffs, geothermal springs, boiling mud pots and rock- and lava-scapes of unearthly beauty
Meet Iceland's people, learn about their unique cultural heritage and contemporary character
Actively explore Iceland's wild western coast; Siglutjörout in the north; the rarely-visited rugged east coast; and the Westman islands, one of the planet's youngest archipelagos
Enjoy superlative photos ops and on-board photo assistance
Travel with an expert team on a holistic, narrative voyage
About National Geographic Explorer
About Lindblad Expeditions
Going where awesome is for 50 years
Lindblad Expeditions goes to the most amazing places on the planet—40+ geographies in all. And they've planted a flag in many of them, deeply committing to remote wild places—like South Georgia and the Falklands; Patagonia, where they opened up Staten Island, 'the island at the end of the world,' for eco-tourism; and remote and beautiful regions of Polynesia, including the Marquesas Islands where few go.

Teams that do whatever it takes
Lindblad's teams will do whatever it takes to ensure you unforgettable experiences. Whether it's manning the spotting scopes all night to ensure a polar bear sighting, orchestrating a landing at an extraordinary wildlife site to coincide with a magnificent sunrise, or sending waitstaff out with gourmet ice cream bars to refresh you as you explore a Polynesia atoll, their commitment creates thrilling moments for you.

Global Stewards
A core value of Lindablad Expeditions is to positively impact the geographies where the fleet sails. Leaders in the travel industry for over 50 years, Lindblad has built ground-breaking programs in education, empowered local artisans, protected wild areas, and so much more. By bringing travelers into wilderness and inspiring them to care, Lindblad creates planetary stewards every day.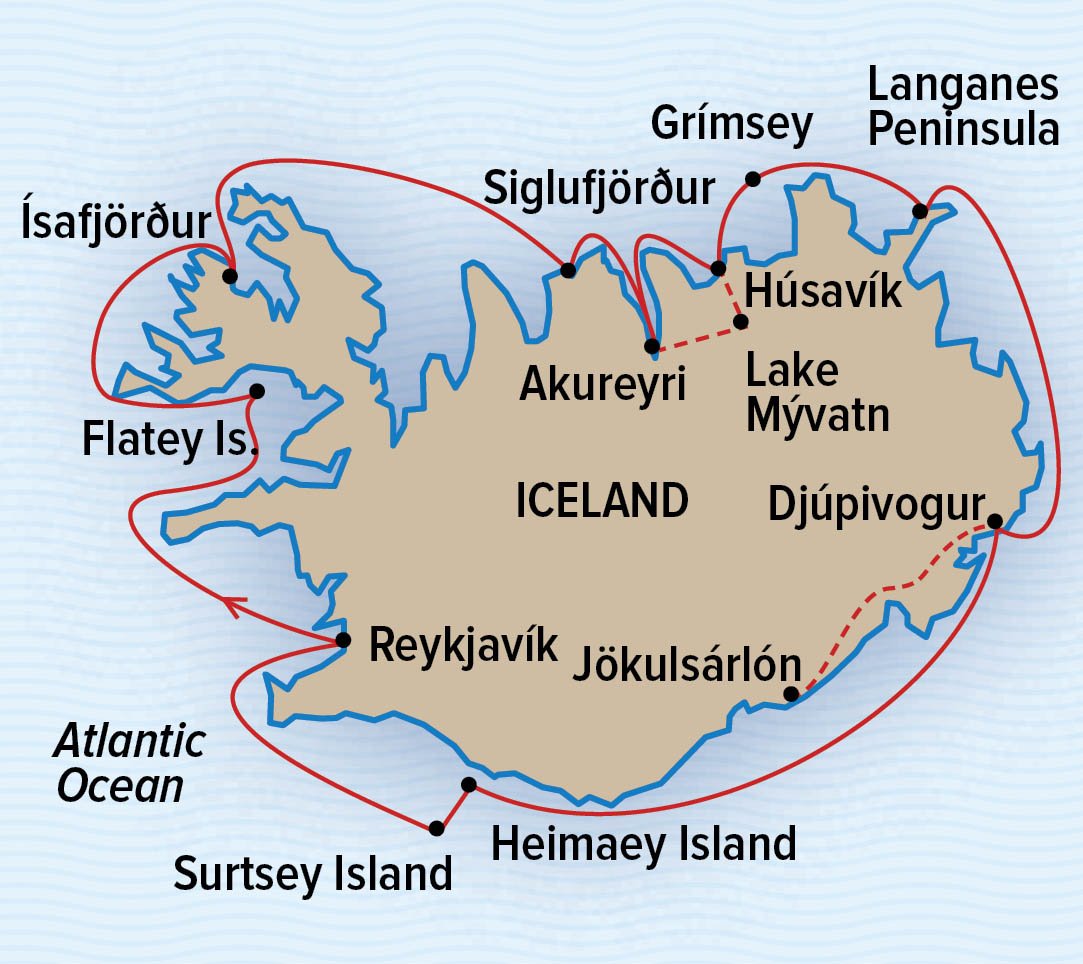 Day
Destination
1
U.S./Reykjavik, Iceland
2
Reykjavik/Embark
3
Flatey Island/Látrabjarg
4
Exploring Northwestern Iceland
5
Ísafjördur
6
Siglufjördur and Akureyri
7
Lake Mývatn and Húsavík
8
Exploring Northeast Iceland
9
Djúpivogur
10
Islands of Heimaey & Surtsey, Westman Islands
11
Reykjavík/Disembark/Home